September 18, 2015
Nowadays large main contractors typically employ small sub-contractors like us for increasingly specialised tasks.  So it is rare indeed to be able to look back at a job and see it evolve over a matter of years.  Such was the case at the recently restored Regent Street Cinema in London.  The cinema became known as the Birthplace of Cinema when, on 20 February 1896, the Lumière brothers' Cinématographe machine was demonstrated there for the first time in the UK.  So this restoration was truly a re-birth.
Back in 2011, we were invited by architect Tim Ronalds (with whom we had previously worked at Sevenoaks School) to contribute to a design process which was transforming a historically important but moribund building into one able to hold its own in the 21st century.  The existing building had a flat floor and inadequate balcony.  This is what it looked like: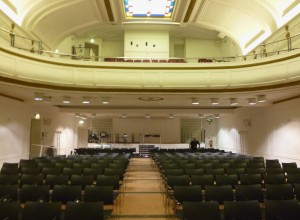 The plan was to insert an entirely new seating tier structure which started at the front of the stalls and rose to meet the balcony in a single sweep.  Not only that but the poorly raked balcony would then be re-fashioned to carry on seamlessly to the rear wall and the windows of the projection room. We said our bit and then heard nothing for a couple of years while the project dealt with the challenges of working with a listed and variously protected building.  In 2013 we were contacted again and the dialogue re-started.  We tendered for several tranches of work within the project and were delighted to be successful with the one closest to our hearts – the free-standing seating tier structure and balcony.  Work began at the end of 2014 and finished by the spring of this year.
Our curved tier modules sat on an array of I-beams, with bolt-plates built into the risers to support the seats.  Great accuracy was demanded because the seats and air-conditioning vents beneath them fitted perfectly – with absolutely no tolerance side-to-side.

When clad, the new form of the space became truly apparent.  We then built a second layer of tiers over the balcony's existing levels so that the sightlines were perfect all the way to the back row.

The new decor seeks to offer a viewing experience in keeping with the luxuriously restored Art Deco interior while achieving the high level of all-round technical provision we have come to expect.  What do you think?